Dry Powder Fire Extinguisher
Dry Powder Fire Extinguisher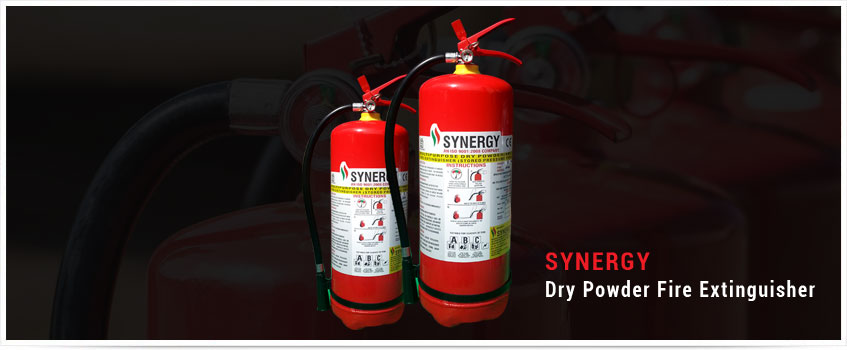 Features
Synergy Brand Dry Powder Fire Extinguisher (Stored Pressure) contains MAP (Mono Ammonium Phosphate) powder.
Suitable to fight all three classes of fire (A B & C) and hence it is also known as multipurpose fire extinguisher.
Also available in stainless-steel.
Ideal uses: Home, office, shops, warehouses, farms and woodworking areas.
Technical Details
Extinguishing Agent
Monoammonium Phosphate (MAP) (ABC Dry Powder)
Suitable for Class
A B C
Capacity (kg/lt.)
1 kg
2 kg
4 kg
6 kg
9 kg
Outside Diameter (mm)
86
108
150
160
180
Hose/Nozzle
Only Plastic Nozzle
Only Plastic Nozzle
PVC Hose with Nozzle
PVC Hose with Nozzle
PVC Hose with Nozzle
Design as per Standards
CE / EN-3 / IS:15683
CE / EN-3 / IS:15683
CE / EN-3 / IS:15683
CE / EN-3 / IS:15683
CE / EN-3 / IS:15683
Discharge - Quantity
More than 85%
More than 85%
More than 85%
More than 85%
More than 85%
Duration/Time (Sec.)
8 to 10
9 to 12
12 to 15
15 to 20
23 to 30
Range/Throw (Meter)
2 to 3
2 to 3
4 to 5
4 to 6
6 to 7
Operating Temperature (°C)
-10 to 55
-10 to 55
-10 to 55
-10 to 55
-10 to 55
Fire Ratings
1 A 8 B
1 A 8 B
1 A 13 B
2 A 21 B
2 A 34 B