SWASTIK SYNERGY ENGGINEERING PVT. LTD. (SSEPL) is one of the leading Manufacturer and Supplier of Fire Fighting Appliances, Equipment & Systems.
SSEPL's manufacturing and warehousing facility is located at Khopoli near Mumbai and it consist of all the necessary and sophisticated plant machinery from Deep Drawing Press to complete Fire Extinguisher assembly line. Its Head Office is located at Santacruz, Mumbai.
Team of SSEPL is conscious of quality control and the same is implemented at every stage right from purchasing of raw material to final performance of product.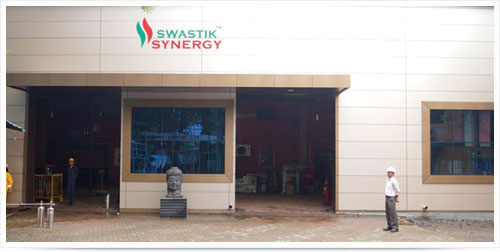 SSEPL is approved by CCOE (PESO) for filling and storing of firefighting gases. SSEPL is a SSI Unit and has adopted ISO 9001:2015 and is registered with NSIC, MSME and a proud member of Fire Protection Association of India, Fire and Security Association of India and Retailer Association of India.
SSEPL is licensed Agency (Maharashtra) for the purpose of 'Fire Prevention and Life Safety Measurers' for:
Fire Fighting System Installation such as hydrants, sprinklers, pumping etc.
Detection and Fire Suppression System.
Passive Protection such as cable protection, fire doors etc.
Each and every product of SSEPL is manufactured keeping in mind that it performs well, long lasting and cost less.